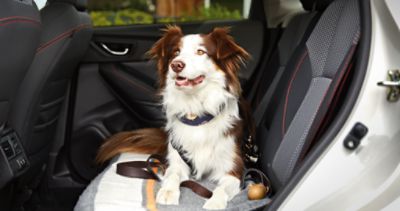 Everyone loves their pets, and it's practically impossible to ignore just how important they are in our lives. Subaru has always advocated for local animal shelters, and especially the ASCPA. In the month of October, Subaru is establishing the first-ever "National Make a Dog's Day", which is happening on October 22nd. This is all a part of "Subaru Loves Pets Month", which occurs every October, and looks to help raise awareness to shelter dogs that are the hardest-to-adopt. This is just a small way for Subaru to give back, not just to the community, but to creatures who help brighten our days, give our weekends extra excitement, and enjoy riding in a Subaru as we much as we do.
What is Subaru doing for National Make a Dog's Day?
On October 22nd, Subaru, along with all of its retailers, is sponsoring an effort to help shelter dogs find loving homes. They are specifically focusing on hardest-to-adopt dogs, which end up spending too long in shelters. These dogs are usually senior dogs, they have birth defects, they might be visually or hearing-impaired, some have physical challenges, and others are amputees. Subaru is hoping that this one simple day will raise enough awareness for people that have room in their lives for another member of the family. While some require a little more work, they still offer the same amount of love. To further this effort, Subaru is launching an entire campaign throughout the month of October to gain traction and boost interest.
How can I participate?
There are many ways that you can be a part of not only this great day, but the entire month. An easy thing you can do is celebrate your own dogs on social media platforms and using the #MakeADogsDay hashtag. You can also consider adopting a shelter dog yourself, especially ones that are older or may have disabilities. Another way is to simply consider giving some of your time to a local animal shelter, or even by participating in your local Subaru retailers collection drive. 
Can you tell me more about the collection drive?
Across the country, Subaru retailers are collecting used pet supplies that are crucial to maintaining the well-being and health of shelter animals. In addition to this, Subaru is donating 4,800 new pet parent kits and 5,500 shelter supply kits to local shelters. Over 100 Subaru retailers are participating, and working with local shelters, especially with adoption events. As you can tell, Subaru is determined to make life as great for shelter animals as they possibly can. And you can be a part of all of this, too!
Now is the time to not only be a Subaru owner, but to follow in the footsteps of what Subaru wants to do in local communities, and give back, however you can. Whether you end up adopting a pet, or just donating your time or money, these animals deserve your love and care. You can
follow this link
for more information regarding this program.