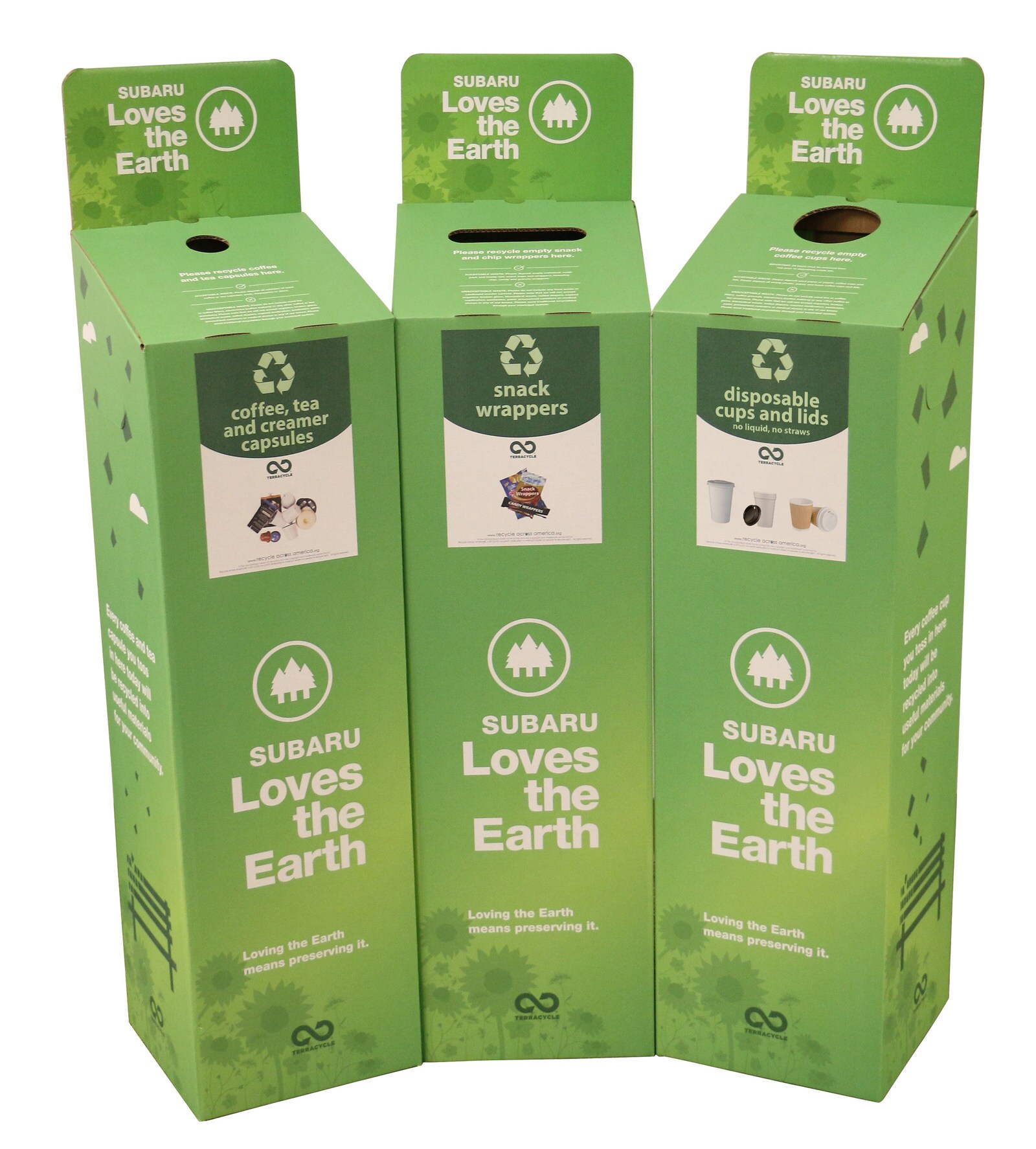 Subaru Loves The Earth Program
Subaru certainly knows how to put its money where its mouth is! Part of the ongoing "Subaru Loves The Earth" campaign is this recent development: With its partner TerraCycle, Subaru is managing to keep not-easily recyclable materials from the trash pile (and from incinerators) plus, has re-purposed them to the tune of more than one-million pieces! And that was all in less than a year, by way of at least 540 participating Subaru dealers! This translates to the fact the partnership interrupted business-as-usual by both creating these high-quality recycled elements (think playground elements & picnic tables/benches), and then donating them to local communities who truly appreciated them.
What items are possible to recycle?
Lids
Plastic straws
Snack wrappers
Snack bags
Disposable cups
Plastic coffee/creamer holders
A ton of things - Just bring it in!
Where do we fit in?
Well, with almost 600 Subaru retailers across the nation, that's where. These dealers will participate via "TerraCycle Zero Waste Boxes" for employees, customers, and community partners to utilize. Items like lids, plastic straws, snack wrappers, snack bags, disposable cups, and even plastic coffee/creamer holders are on the list. You can collect these at your office or home, and then, we here at the Subaru dealer will have specially-designed Zero Waste Boxes to get them to TerraCycle with. What's more, after these items collected are recycled, Subaru dealers can assist local community organizations with donations ordered from the products made with the recycled materials (Subaru product-exclusive access). So essentially, it's a true trash-to-treasure arrangement for local organizations in need.
What do Terracycle & Subaru Have to Say On this Development?
Thomas J. Doll, President and CEO of Subaru of America, Inc. had this to say: "Through Subaru Loves the Earth, we are proud & honored to partner again with TerraCycle to empower local communities nationwide to think about recycling in new & meaningful ways. This ongoing partnership allows us to act on what we at Subaru personally feel as a responsibility to protect the Earth's natural wonders & promote a cleaner planet." Over at TerraCycle, CEO Tom Szaky noted "At TerraCycle, our mission is to 'Eliminate the Idea of Waste' and it's through partnerships like Subaru Loves the Earth that truly make a difference. It's a privilege to continue our ongoing relationship with Subaru, and we look forward to partnering with them for many years to come."
How can I Get Involved?
You can always go online to subaru.com/environment as well as follow #SubaruLovesTheEarth on social media platforms. With over 40,000 volunteer hours and more than $120 million in donations (from the past 20 years) you will be assisting Subaru Of America in its mission with anything you do! TerraCycle has contributed over $25 million to schools & charities since it began about 15 years ago. Come on in an bring those not-usually-recycled items in and we'll help turn it into something amazing!
One More Thing!
Did you know that 1.)  the only U.S. auto production plant that is also designated as a backyard wildlife habitat (National Wildlife Federation) is the Subaru of Indiana Automotive, Inc. plant and that 2.)  all Subaru products are manufactured in zero-landfill production plants? Awesome! As always, feel free to look at
our current inventory of top-of-the-line, new Subaru models
if you want to support a company with such strong initiatives and results as Subaru! We here at Reedman-Toll Subaru of Langhorne are proud to be a part of the Subaru Love the Earth Promise and can't wait to work with you soon!