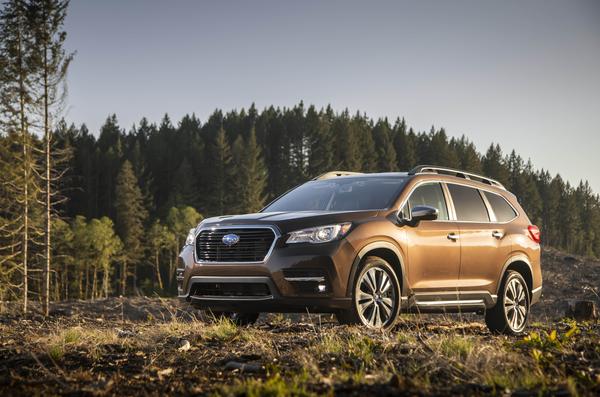 Subaru is an automotive company that has built their brand around adventure and safety. One of the major technologies that they have developed is called EyeSight Driver Assist Technology. This technology, according to a comprehensive study by the Highway Loss Data Institute, has been incredibly effective at preventing collisions with pedestrians. EyeSight has reduced pedestrian-related insurance claims by around 41 percent. This means that not only does EyeSight help you avoid hitting pedestrians, but on the other side of things, it can make your chances of being hit decrease as well. EyeSight technology is here to stay with Subaru, especially considering the fact that every 2018 Subaru model is offered with it, with the exception of the BRZ. To learn more, continue reading down below!
What is Subaru's EyeSight Technology?
This technology comes with lane keep assist, lane departure and sway warning, adaptive cruise control, and pre-collision braking and throttle management. In order for this technology to work as seamlessly as it does, Subaru has continued to develop and upgrade its capabilities and detection range. EyeSight has two color cameras that are mounted inside the car on the upper edge of the windshield. This means that there is less likely to be damage to the system if the bumper is hit. Subaru has also created EyeSight so it can process stereo images in order to identify vehicles, and other obstacles, that are in front of the car. One crucial aspect to EyeSight is that it can detect pedestrians, and if it does detect them, it can activate to mitigate and/or avoid the collision. It even has the ability to completely stop the vehicle in order to avoid the collision. 
Why is EyeSight Technology so important?
The Insurance Institute for Highway Safety, which is the most respectable organization when it comes to these studies, has shown that in 2016, pedestrian deaths made up 16 percent of all auto collision fatalities. Those numbers have continued to climb year after year, and that increase points to an alarming trend. These fatalities have occured in suburban and urban areas, where roads are busy and safe crossing locations are scarce. That means, that having a technology like EyeSight allows for those numbers to decrease the more vehicles that include them. Even in areas where there may not be any crosswalks, if the vehicle has technology that can actively be searching for any potential pedestrians, then the chances of a fatal accident happening drastically decrease. 
What is the IIHS?
IIHS stands for the Insurance Institute for Highway Safety. The IIHS is an independent scientific and educational nonprofit organization. They are dedicated to reducing loss of life, property damage, and injuries, from crashes that happen on the roads in the United States. They are supported by the HLDI, the Highway Loss Data Institute, in order to spread this data to share the vehicles that are involved, and what kind of ownership was a part of these accidents. All of these statistics are shown by the make and model of the vehicle. More information about IIHS can be found by visiting their website.
To fully appreciate the safety that Subaru's EyeSight Technology gives you, consider buying one of our brand
new Subaru vehicles
! No matter which one you opt for, you are more than likely to find EyeSight Technology watching over you, and helping to prevent any accidents that may occur.