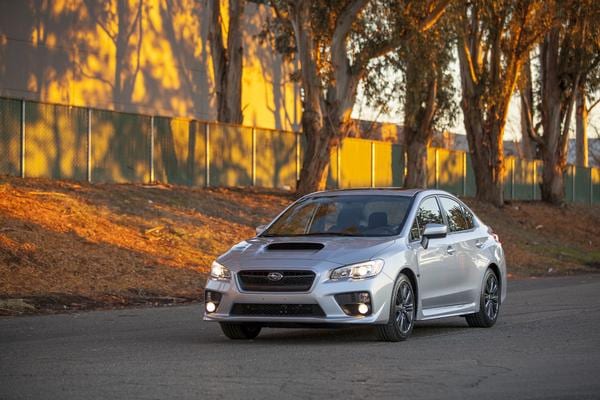 Inventory
Get Financing
Service
Find Parts
Contact Us
Pre-Owned Used Subaru WRX at Reedman-Toll Subaru in Langhorne, PA
The Subaru WRX comes in a few different designs to meet the needs of various kinds of drivers and passengers. Throughout its time, the Subaru WRX has been known to be affordable to people on all kinds of vehicle budgets. People have been satisfied with the Subaru WRX because of all its available features, and happy with the fact that they bought the vehicle. Recently, Subaru has been making these vehicles to be similar to their Impreza models. Keep reading to learn more about the fantastic Subaru WRX!
Under the WRX's Hood
The Subaru WRX is available with manual and continuously variable automatic (CVT) varieties. The engine will likely be a turbocharged one with four cylinders and all-wheel drive. The engine will probably be a 2.0-liter one with an H-4 cylinder configuration. Premium gas is the best for this vehicle. The car is known to do an exceptionally fine job at highway driving. It can accelerate quickly and handles various driving conditions with no problem. You will have a 15.9-gallon fuel tank capacity, and can expect up to 28 miles per gallon (mpg) highway and 21 mpg city. For horsepower you may get up to 268 @ 5,600 revolutions per minute (rpm), and for torque you may be provided with 258 lb-ft @ 2,000 rpm.
Design of Subaru WRX
The Subaru WRX is available as a sedan; it comes in the form of four doors with a trunk. If you get the WRX Limited, STI or STI Limited trims, then you will have a navigation system available to you that includes an Aha Infotainment smartphone integration unit. In addition, you may have a Radio Data Broadcast system. The car offers plenty of visibility through the front window so you can see where you are going without the vehicle's body being in the way. The vehicle's stereo offers good sound quality, and you will have an AM/FM radio, MP3 decoder and CD player. The telescoping steering wheel has audio controls mounted to it to make it easier to control the audio than without these controls. Six speakers throughout the car will allow occupants to listen to the music or talk show that you are playing through the audio system. The car has both front and rear beverage holders to make it easy for people to bring their soft drinks and water bottles along for the ride.
Is a power moonroof available for this car?
Yes, it is usually available for Premium and Limited trims.
Does the car offer an exterior temperature display?
Yes, so you will know how warm or cold it is outside!


Conclusions
The Subaru WRX offers all sorts of safety features for its driver and other occupants. The WRX STI may offer front fog lamps to better help you see where you are going while driving in messy weather. Traction control will come in handy, particularly in inclement weather. A rear window defroster will keep your back window clear when it gets fogged up. Low tire pressure warning will alert you when you should fill up your tires to avoid a flat. You will have brake assist, electronic stability control and anti-lock brakes (ABS). You will have dual front impact, dual front side impact, overhead, knee and occupant sensing airbags. We would like you to come down to learn more about and try out a Used Subaru WRX! We look forward to meeting you!
Read Our Other Reviews
Used Subaru Legacy
Used Subaru Outback
2014 Subaru Impreza