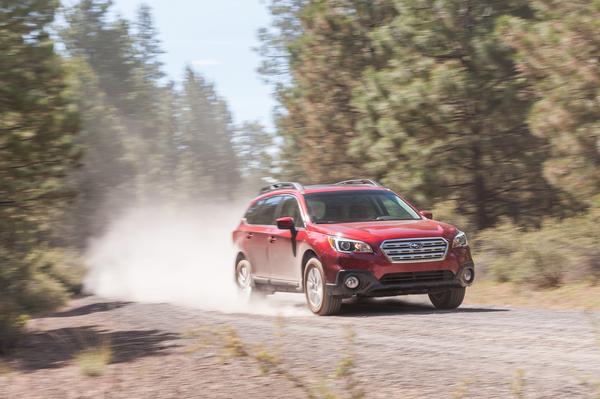 Browse Inventory
Get Financing
Schedule Service
Find Parts
Contact Us
Used 2016 Subaru Outback at Reedman-Toll Subaru for Langhorne, PA
The 2016 Subaru Outback is pretty close to the ideal family-adventure vehicle, as it's nestled in an ideal spot between brawny wagon and lean crossover utility vehicle. Last year the automaker gave the Outback a full redesign making it even less of a compromise, in just about every way; and the 2016 Outback brings a few more features to this model's already top-notch EyeSight active-safety suite, plus a few more upgrades and refinements.
Under the Outback's Hood
The engines now have a Lineartronic continuously variable automatic transmission that might have you in disbelief as being a conventional 6-speed automatic. It's not, but it is tuned to follow simulated ratios up the rev band, and shift in steps, in that same way-even when you mash your foot to the floor. Even during mild acceleration, it ratchets the ratio up so rapidly and subtly that we pronounce it one of the best such transmissions.
Design of Subaru Outback
Inside, just as outside, the design was changed in evolutionary ways. Better in nearly every respect, and un-controversially easier to use. The 2016 Outback can feel more upscale inside than you might have expected from the rugged exterior. The 2016 Subaru Outback actually shares no sheet metal with the Legacy sedan on which it continues to be based. That said, while the Outback rides a few inches higher than the Legacy, you can see the resemblance.
What is Subaru and what does it mean?
Subaru is a Japanese word that means unite, as well as a term identifying a cluster of six stars, which the Greeks called Pleiades - part of the Taurus constellation.

Why do some people call it a Scooby?
In the UK, the car is affectionately known as Scooby after the cartoon character Scooby Doo, which rhymes with Subaru. The first film reference known is in the 1989 film Always in which Richard Dreyfuss is a Subaru car salesman and his friend John Goodman refers to him as selling Scooby Doos.


Is all wheel drive standard on Subaru's?
Yes, since 1997, except for BRZ, Subaru's rear wheel drive sports car. 
Conclusions
Subaru has stepped up its active-safety features, including its suite of Eyesight technologies that might just help you avoid an accident. In the 2016 Subaru Outback and Legacy, the available EyeSight system adds Lane Keep Assist, a feature that will, above 40 mph, detect when the vehicle is drifting from the travel lane and apply steering assist to direct it back into the lane. That's accompanied by audible and visual alerts. Give us a call today for more information on the 2016 Subaru Outback!
Read Our Other Reviews
2015 Subaru BRZ
2015 Subaru XV Crosstrek
2015 Subaru Legacy