The 2021 Subaru Love Promise Community Commitment Award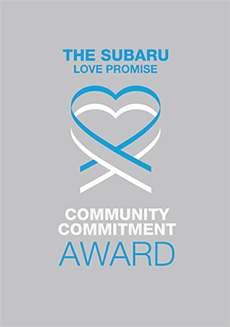 We've been nationally recognized for our dedication to our community and the Subaru Love Promise.
We're honored to receive the 2021 Subaru Love Promise Community Commitment Award. This award nationally recognizes Subaru retailers who are making the world a better place while demonstrating an outstanding commitment to supporting passions and causes in local communities. These efforts are focused in important areas such as the environment, community, health, education, and pets.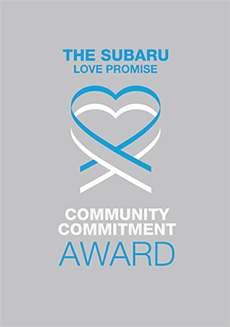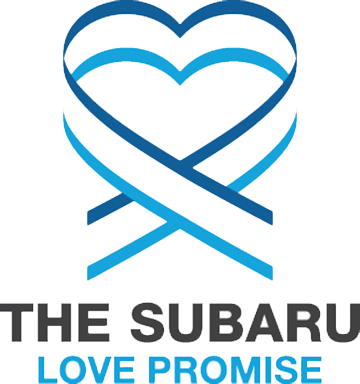 What is the Subaru Love Promise?
Subaru and our retailers believe in making the world a better place and the Subaru Love Promise is our vision of respecting all people. This is our commitment to show love and respect to our customers and to work to make a positive impact in the world.
How is Reedman-Toll Subaru dedicated locally to the Love Promise?
Our Love Promise can be seen in various partnerships with local charities and non-profits. We're grateful for the opportunity, not only to be a part of our community, but to serve it as well.
SUBARU LOVES THE EARTH TERRACYCLE INITIATIVE
Bucks County Emergency Homeless Shelter, Feeding America, ADAGP Driving Away the Cold
Love Promise Stories from Reedman-Toll Subaru
Subaru and Reedman-Toll Subaru believe in making a positive impact on the communities in which we live and work. We uphold that belief through our Love Promise Community Commitment. Every month, we select inspiring stories from customers and partners from around our area who strive to support our collective commitment and feature them here
Driving Away The Cold - Mary Lynn A
I'm writing with a sincere thank you for the time, effort and financial resources you have dedicated to our Driving Away the Cold new coat program. The support from our dealer members was needed more than ever this year and its impact is palpable. With your help, we gave the gift of warmth and confidence to 53,928 local children in need and your Auto Dealers CARing for Kids Foundation is recognized as a force for good in the Philadelphia area. From me and the 250+ non-profits and school districts that distributed our new coats, we give thanks to you for helping us give more coats, and more smiles, than ever before. I wish you a wonderful Thanksgiving weekend. Be well!
---
Reedman-Toll Subaru Loves to Help - John S
Through our Love Promise, a commitment to support our local communities, Reedman-Toll Subaru is supporting Bucks County Emergency Homeless Shelter to help people in need this winter season. More than 500,000 Americans experience homelessness each night. This November, as part of Subaru Loves to Help and in recognition of National Homeless Youth Awareness Month, Subaru and Reedman-Toll Subaru will be donating 50,000 blankets to local homeless shelters across the country to help youth and all people who are without homes. As we enter the season of giving and nights get colder, we want to do our part in making a difference to those who need our help.
---
Reedman-Toll Subaru Loves Pets - John S
Through our Love Promise, Reedman-Toll Subaru is proud to help the last-to-adopt shelter animals, we call these the Underdogs. We believe that all pets deserve a loving home. Especially shelter animals with special needs. So this October, we're returning the love that pets give us by helping the Underdogs and all shelter dogs finally find loving homes. To help, we'll be donating $100 to Womens Animal Center for each pet adopted during a sponsored adoption event throughout the month of October.
---
Sharing the Love One Pet at a Time - Claire W
Subaru has been an outstanding corporate neighbor to Women's Animal Center (WAC), "America's First Animal Shelter"™, since 2017. Reedman-Toll Subaru has generously "shared the love" with the Bensalem-based organization (founded in 1869), and helped it advance its mission of "saving the lives of animals and improving the lives of pets through sheltering and adoptions, veterinary services, community partnerships, educational resources, and advocacy." The dealership has done so not only through financial contributions, but also by applying no small amount of creativity, dedication, and promotional savvy to the task of helping more homeless cats and dogs find their "furever" homes. Not even the COVID-19 pandemic of 2020 could keep Chris Shumard and his team from coming together to make a difference for pets and people who love them. And make a difference they did! During October's "ASPCA and Subaru Loves Pets" event, Reedman-Toll Subaru personnel visited WAC several times to learn more about the Shelter's residents and to shoot still and video photography of various candidates for adoption. Their work was featured on Reedman-Toll's website and social media platforms. Women's Animal Center also shared the very attractive promotional shots, furthering their reach and impact. It was exciting to see how many people tagged friends and family members in various posts, and shared them with their own networks. By the end of October, 68 formerly homeless dogs and cats had been adopted! Generous funding from Subaru's partner in the Fall outreach, the ASPCA, underwrote spaying or neutering for each pet prior to leaving the Shelter. Many of the pets Reedman-Toll Subaru featured in their campaign are what Subaru terms "underdogs": pets who face various challenges due to age, physical handicap, etc. A particularly moving – and joyous – "Subaru Loves Pets" underdog spot featured Big Momma, a 10-year-old, 160-pound Cane Corso. Big Momma had lost her human, a longtime and highly esteemed Women's Animal Center employee, to cancer, and needed to find a new home where she could live out her life loved and safe. The Reedman-Toll Subaru team shot a wonderful promotional video as a kickoff to the "Subaru Loves Pets" October adoption event starring Big Momma. Part of the video was shot with a tiny camera attached to Big Momma's collar. This allowed viewers to experience the world as Big Momma sees it, and to get a lively sense of her playfulness and gentle spirit. The team also produced a still shot of Big Momma that also attracted interest. I am happy to say that these images reached many including, over 600 views of the video, which helped Big Momma to find a new loving home! Women's Animal Center is deeply appreciative of Reedman-Toll Subaru's enthusiastic support. Thank you for "loving pets" and "sharing the love"!
---
Reedman-Toll Subaru & St. Mary's Medical Center - Meredith O
On June 28th the Eastern Pennsylvania Chapter and Reedman-Toll Subaru has the pleasure of delivering 80 blankets and 50 arts & craft kits to St. Mary's Medical Center as part of the Subaru Loves To Care program. These comforting gifts were accompanied by personalized messages of hope written by the customers and staff of Reedman-Toll Subaru. This incredible act of generosity was warmly received by the St. Mary's Medical Center staff who were thrilled to distribute these comforting gifts to their patients. LLS is proud to partner with Subaru to spread hope, love and warmth to those fighting cancer, across the country and right here in the Greater Philadelphia community.
---
Reedman Toll Loves to Care St. Mary's! - Jenn P
Reedman Toll Subaru of Langhorne shared warmth and hope to patients at St. Mary's hospital on Friday, July 13th, 2018. While giving the blankets to hospital staff, there was a 5-year-old girl who was in the cancer center while her mother was receiving treatment. We were told that she is never far from her mother's side and accompanies her to the hospital for most of her treatments. Ashleigh is a sweet little girl who is going to be starting kindergarten this coming fall. We were able to give her a blanket and a craft kit. She was really excited about the craft kit, not only to have something to do while she is with her mother but also because she can use some of the supplies for the upcoming school year. She was also accompanied by her Great Aunt, who was very appreciative of the items we were able to give her niece. Thank you Reedman Toll!
---
St. Mary's & Reedman-Toll Subaru Loves To Care - Monique R
On July 7th, 2017 The Leukemia & Lymphoma Society (LLS) of Eastern PA and Reedman-Toll Subaru teamed up to deliver blankets, cards and craft kits to patients going through cancer treatment at St. Mary's Medical Center in Langhorne, PA. Many representative of the Hospital and Subaru retailer were in attendance to present the blankets. Photos were taken at the outpatient cancer center area of the hospital in front of a beautiful and colorful mural. A painter was working on a new mural for the area. The staff at St. Mary's was very pleased to be a recipient of the blankets and appreciative of the Subaru Loves To Care campaign. They plan to publish a story to share locally. LLS and Subaru hope that a patient's spirit was lifted by the delivery of these blankets.
---
Subaru Loves Learning Book Drive - August 1-31 - Molly M
Join us in our Subaru Loves Learning initiative during the month of August! We are partnering with the American Association for the Advancement of Science (AAAS) in donating science books to the Neshaminy School District. All of the books that will be donated have been recognized by AAAS as some of the best science books in their field. Contact us to learn more information.
---
Subaru Loves the Earth - E-Waste Event - Danielle S
We would like to thank our customers for participating in our E Waste Recycling event during the month of April. With your help, we were able to prevent 3,135 lbs of carbon emissions from polluting the atmosphere. This is equivalent to saving 121 trees, 533 gallons of gasoline, 4,545 plastic bottles, and 20,903 aluminum cans. Thank you for helping strengthen the Subaru Love Promise!
---
April 1-30, 2015 E-Waste Recycling Event - Molly M
Throughout the month of April, we are hosting an E-Waste Recycling Event in our store to collect unwanted electronics. We've arranged to work with a company who will responsibly collect, re-purpose, and recycle your electronic waste. Help us protect our environment. Just show up with your E-Waste and we'll do the rest! The first 50 customers who contribute will receive a complimentary environmental badge of ownership. We will accept: LCD Monitors, Cell Phones, Laptops, Tablets, CRTs up to 40, Video Games/Consoles, Fax Machines, DVD/VCR Players, Printers, Computer Peripherals, Switches/Routers, Cords and Wires.
---