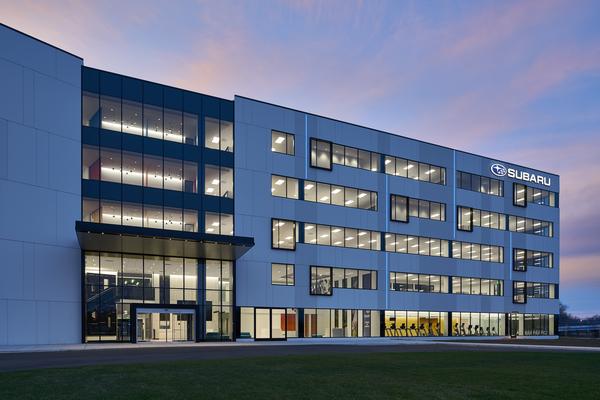 In April 2018, Subaru officially held the grand opening of their new headquarters. These headquarters are located in Camden, NJ, which is a brand new home for Subaru. These headquarters were a part of a plan that was announced in 2014, after Subaru has sustained years of growth and the need for an expansion. Over 550 employees are switching buildings to occupy the Camden headquarters. Subaru will have plenty of room for additional growth, as the headquarter is 250,000 square feet. That doesn't even take into account a new training center which is double the size of the old headquarters. This is also a bringing together of employees from four different sites! This is an incredibly exciting time for Subaru, and the employees that help make it all happen. You'll also be happy to hear that this building is only around 40 minutes away from Reedman Toll Subaru!
What was the grand opening ceremony like?
There were many speeches given at the grand opening of Subaru's new headquarters. Some of those speeches were given by Gerard Sweeney and Francisco "Frank" Moran. Sweeney is the CEO and President of Brandywine Realty, while Moran is the Mayor of Camden. The third speaker was, of course, given by The CEO and President of Subaru America, Thomas J. Doll. However, it is impossible to have a grand opening ceremony without the vehicles themselves. That's why the 50th Anniversary edition models, and specially wrapped Outbacks, helped to frame a visual ceremony that worked around the theme 'Love Promise'. This theme helps build the company's pledge to support customers and communities. Another part of this ceremony was Subaru's donation to the City of Camden. They donated fifty cherry trees to the town. Cherry blossom trees, in Japanese culture, represent the beauty of life, a symbol of new beginnings, and fragility.
 Are the new offices 'zero landfill'?
The new headquarters in Camden will in fact be zero landfill. This simply means that any kind of waste created at the offices will either be recycled, reused, or reduced. This practice further bolsters Subaru's commitment to offering world-class leadership when it comes to environmental performance. However, Subaru isn't just stopping with zero landfill. They are also expecting the new headquarters to be LEED certified. This simply means that they use LED lighting throughout the whole building, they use carpeting that has been manufactured with partially recycled things, and wood that has been reclaimed and used as decor. Subaru doesn't stop there. They have also partnered with the Pennsylvania Horticultural Society in order to create a landscape that uses native planets that are both bird-friendly and drought-tolerant. 
What relationship does Subaru have with Camden?
For over 30 years Subaru has had a deep commitment to Camden. They even have a program called Subaru Camden Works, which helps to enhance the lives of those in Camden. They help with Camden Schools Foundation, Habitat for Humanity, Center for Family Services, Respond Inc., and Hopeworks 'N Camden. Since 2016, ten different Camden organizations have shared around $1.6 million in investments made by Subaru. There have even been more than $200,000 given by Subaru to help with employability. Subaru has created an impressive relationship with Camden, and has become a central figure in the community. 
Find out more about what it means to have the
Subaru Love Promise
vision. Subaru has created a new headquarters, but they haven't strayed away from their vision of bettering the environment around them, and adding to the communities that have welcomed them.